Overview of Pathogenesis of Nonalcoholic Steatohepatitis
An understanding of the pathogenesis and natural course of NAFL and NASH is essential. These conditions are not static, but dynamic, and may progress or regress at variable rates in different individuals or even in the same individual at different times.
Non-alcoholic steatohepatitis (NASH), resulting from a combination of adipose tissue insulin resistance, adipocytokine imbalance and systemic inflammation, is currently a major worldwide cause of chronic liver disease, contributing to cirrhotic morbidity, hepatocellular carcinoma and liver transplantation, and worsening cardiovascular disease and metabolic dysfunction.
RELATED Pathophysiology VIDEOS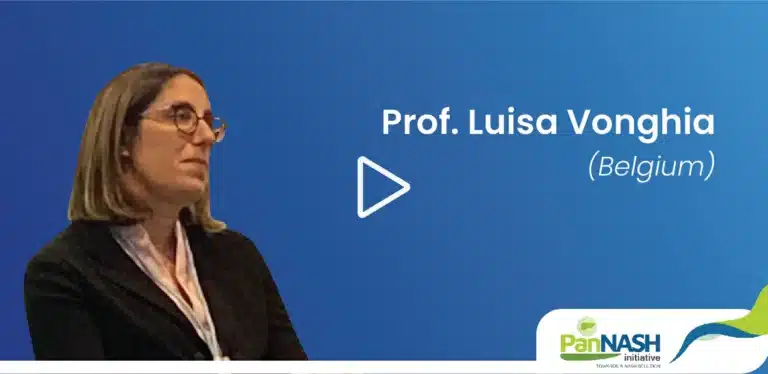 Prof. Luisa Vonghia (Belgium) explores the role of fatty liver disease and metabolic comorbidities in
View More ⏩
RELATED Pathophysiology ARTICLES
There are many complex physio-pathologic connections within the brain, gut, and liver axis. This review
View More ⏩
Predicting the individual risk of NAFLD and determining the probability of disease progression is the
View More ⏩
Xanthine oxidoreductase is an enzyme that catalyses hypoxanthine to xanthine and xanthine to uric acid,
View More ⏩
In this editorial, P. Manka Essen University Hospital, Germany) and W. K. Syn (Medical University
View More ⏩
Anstee QM, Mantovani A, Tilg H, Targher G. Risk of cardiomyopathy and cardiac arrhythmias in patients with nonalcoholic fatty liver disease. Nat Rev Gastroenterol Hepatol 2018;15:425-39.
Armandi A, Schattenberg JM. Beyond the paradigm of weight loss in non-alcoholic fatty liver disease: from pathophysiology to novel dietary approaches. Nutrients. 2021 Jun 8;13(6):1977.
Francque SM, van der Graaff D, Kwanten WJ. Non-alcoholic fatty liver disease and cardiovascular risk: pathophysiological mechanisms and implications. J Hepatol 2016;65:425-43.
Lonardo A, Mantovani A, Lugari S, Targher G. Epidemiology and pathophysiology of the association between NAFLD and metabolically healthy or metabolically unhealthy obesity. Ann Hepatol. 2020 Jul-Aug;19(4):359-366.
Sanyal A. Genetics of nonalcoholic steatohepatitis. Gastroenterol Hepatol (N Y). 2020 Dec;16(12):651-653. 
Steinman JB, Salomao MA, Pajvani UB. Zonation in NASH – A key paradigm for understanding pathophysiology and clinical outcomes. Liver Int. 2021 Jul 30 [Epub ahead of print].
Targher G, Byrne CD, Tilg H. NAFLD and increased risk of cardiovascular disease: clinical associations, pathophysiological mechanisms and pharmacological implications. Gut. 2020 Sep;69(9):1691-1705.
Tilg H, Effenberger M. From NAFLD to MAFLD: when pathophysiology succeeds. Nat Rev Gastroenterol Hepatol. 2020 Jul;17(7):387-388.
van der Graaff D, Kwanten WJ, Francque SM. The potential role of vascular alterations and subsequent impaired liver blood flow and hepatic hypoxia in the pathophysiology of non-alcoholic steatohepatitis. Med Hypotheses. 2019 Jan;122:188-197.
Vonghia L, Michielsen P, Francque S. Immunological mechanisms in the pathophysiology of non-alcoholic steatohepatitis. Int J Mol Sci. 2013 Oct 1;14(10):19867-90.
Younossi Z, Anstee QM, Marietti M, et al. Global burden of NAFLD and NASH: trends, predictions, risk factors and prevention. Nat Rev Gastroenterol Hepatol 2018;15:11-20.