PPARS ARE BEING EXTENSIVELY INVESTIGATED IN THE TREATMENT OF NAFLD/NASH.
Anti-NASH agents must be at least neutral with respect to extrahepatic end-organ disease and outcomes.  PPARs are promising therapeutic options since:
PPARs regulate metabolism, inflammation and fibrosis, all of which determine NASH progression.
Both PPARα-β/δ dual agonism as well as PPARγ agonism have shown beneficial effects on liver histology in phase IIb clinical trials for NASH.
Single, dual and pan-PPAR agonists are under development for the pharmacological treatment of NASH

In light of current knowledge of the various functions of PPARs, it can be speculated that activation of PPARα, PPARβ/δ and PPARγ may be an effective therapeutic approach to prevent the development and progression of NASH through a combination of metabolic, anti-inflammatory and antifibrotic effects, thereby addressing a large spectrum of parameters involved in the disease along its continuum.
Given the hypoglycaemic, hypocholesterolaemic, antifibrotic, anti-inflammatory and vascular effects of PPARs, the use of agents that activate all three PPAR isoforms, so-called pan-PPAR agonists, is expected to lead to greater improvement in efficacy compared with targeting a single or dual PPAR isoform and may bring an innovative and efficacious therapeutic approach to prevent the development and progression of NASH, providing that side effects such as oedema, weight gain, bone fractures and cardiotoxicity observed with more selective PPAR agonists are absent or limited.
RELATED Pan-PPAR Agonists VIDEOS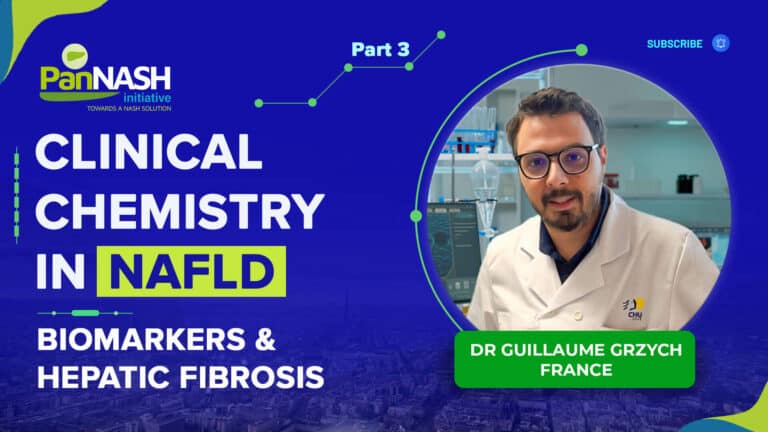 Discover the intricate dynamics of Clinical Chemistry in NAFLD with Dr. Guillaume Grzych, a leading
View More ⏩
RELATED Pan-PPAR Agonists ARTICLES
Peroxisome proliferated-activated receptors (PPARs), including α, β/δ and γ isotypes, are a nuclear receptor family
View More ⏩
Non-alcoholic fatty liver disease (NAFLD) can be categorised into two disease sub-classifications: non-alcoholic fatty liver
View More ⏩
Non-alcoholic steatohepatitis (NASH) is characterised by complex interactions between intricate intra- and extra-hepatic drivers, encompassing
View More ⏩
The last decade has seen an unprecedented amount of data in the way of therapeutic
View More ⏩
PPAR agonists currently or previously investigated for the treatment of NASH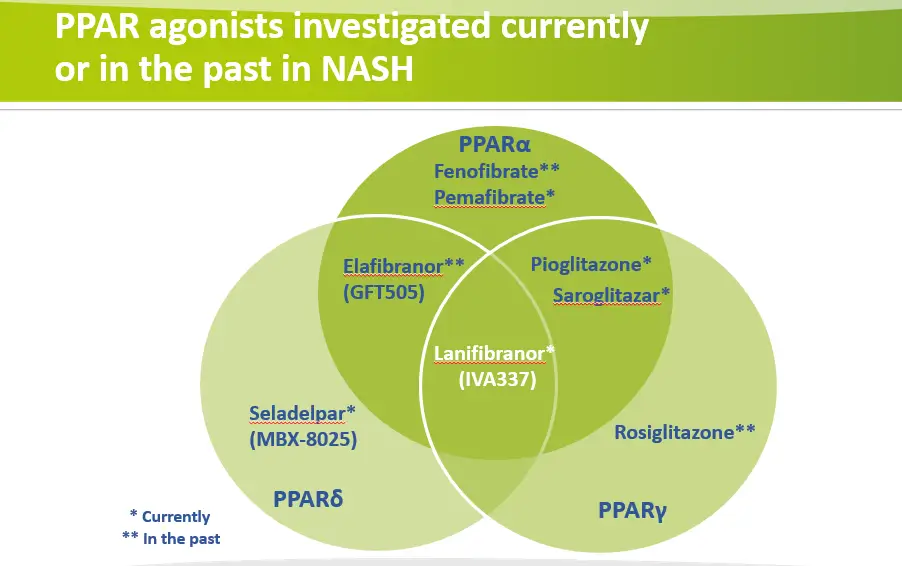 Araki E, Yamashita S, Arai H, et al. Efficacy and safety of pemafibrate in people with type 2 diabetes and elevated triglyceride levels: 52-week data from the PROVIDE study. Diabetes Obes Metab. 2019 Jul;21(7):1737-1744.
Beysen C, Murphy EJ, Nagaraja H, Decaris M, Riiff T, Fong A, Hellerstein MK, Boyle PJ. A pilot study of the effects of pioglitazone and rosiglitazone on de novo lipogenesis in type 2 diabetes. J Lipid Res. 2008 Dec;49(12):2657-63.
Bril F, Cusi K. Management of nonalcoholic fatty liver disease in patients with type 2 diabetes: a call to action. Diabetes Care. 2017 Mar;40(3):419-430.
Chen J, Montagner A, Tan NS, Wahli W. Insights into the role of PPARbeta/delta in NAFLD. Int J Mol Sci. 2018;19(7).
Chiquette E, Ramirez G, Defronzo R. A meta-analysis comparing the effect of thiazolidinediones on cardiovascular risk factors. Arch Intern Med. 2004 Oct 25;164(19):2097-104.
Derosa G, Sahebkar A, Maffioli P. The role of various peroxisome proliferator-activated receptors and their ligands in clinical practice. Journal of cellular physiology. 2018;233(1):153-61.
Fabbrini E, Mohammed BS, Korenblat KM, Magkos F, McCrea J, Patterson BW, Klein S. Effect of fenofibrate and niacin on intrahepatic triglyceride content, very low-density lipoprotein kinetics, and insulin action in obese subjects with nonalcoholic fatty liver disease. J Clin Endocrinol Metab. 2010 Jun;95(6):2727-35.
Fernandez-Miranda C, Perez-Carreras M, Colina F, Lopez-Alonso G, Vargas C, Solis-Herruzo JA. A pilot trial of fenofibrate for the treatment of non-alcoholic fatty liver disease. Dig Liver Dis. 2008;40(3):200-5.
Francque S, Szabo G, Abdelmalek MF, et al. Nonalcoholic steatohepatitis: the role of peroxisome proliferator-activated receptors. Nat Rev Gastroenterol Hepatol. 2021 Jan;18(1):24-39.
Francque SM, Bedossa P, Abdelmalek MF, et al. A randomised, double-blind, placebo-controlled, multi-centre, dose-range, proof-of-concept, 24-week treatment study of lanifibranor in adult subjects with non-alcoholic steatohepatitis: Design of the NATIVE study. Contemp Clin Trials. 2020 Nov;98:106170.
Haczeyni F, Wang H, Barn V, Mridha AR, Yeh MM, Haigh WG, et al. The selective peroxisome proliferator-activated receptor-delta agonist seladelpar reverses nonalcoholic steatohepatitis pathology by abrogating lipotoxicity in diabetic obese mice. Hepatol Commun. 2017;1(7):663-74.
Ip E, Farrell G, Hall P, Robertson G, Leclercq I. Administration of the potent PPARalpha agonist, Wy-14,643, reverses nutritional fibrosis and steatohepatitis in mice. Hepatology. 2004;39(5):1286-96.
Jain MR, Giri SR, Bhoi B, Trivedi C, Rath A, Rathod R, et al. Dual PPARalpha/gamma agonist saroglitazar improves liver histopathology and biochemistry in experimental NASH models. Liver Int. 2018;38(6):1084-94.
Larter CZ, Yeh MM, Van Rooyen DM, Brooling J, Ghatora K, Farrell GC. Peroxisome proliferator-activated receptor-alpha agonist, Wy 14,643, improves metabolic indices, steatosis and ballooning in diabetic mice with non-alcoholic steatohepatitis. J Gastroenterol Hepatol. 2012;27(2):341-50
Liss KH, Finck BN. PPARs and nonalcoholic fatty liver disease. 2017;136:65-74
Ratziu V, Harrison SA, Francque S, et al. Elafibranor, an Agonist of the Peroxisome Proliferator-Activated Receptor-alpha and -delta, Induces Resolution of Nonalcoholic Steatohepatitis Without Fibrosis Worsening. 2016;150(5):1147-59 e5.
Ratziu V, Charlotte F, Bernhardt C, et al.; LIDO Study Group. Long-term efficacy of rosiglitazone in nonalcoholic steatohepatitis: results of the fatty liver improvement by rosiglitazone therapy (FLIRT 2) extension trial. 2010 Feb;51(2):445-53.
Riserus U, Sprecher D, Johnson T, et al. Activation of peroxisome proliferator-activated receptor (PPAR)delta promotes reversal of multiple metabolic abnormalities, reduces oxidative stress, and increases fatty acid oxidation in moderately obese men. 2008;57(2):332-9.
Sahebkar A, Chew GT, Watts GF. New peroxisome proliferator-activated receptor agonists: potential treatments for atherogenic dyslipidemia and non-alcoholic fatty liver disease. Expert Opin Pharmacother. 2014;15(4):493-503.
Sumida Y, Yoneda M. Current and future pharmacological therapies for NAFLD/NASH. J Gastroenterol. 2018;53(3):362-76.
Tsai HC, Li TH, Huang CC, et al. Beneficial effects of the peroxisome proliferator-activated receptor alpha/gamma agonist aleglitazar on progressive hepatic and splanchnic abnormalities in cirrhotic rats with portal hypertension. Am J Pathol. 2018;188(7):1608-24.
Wettstein G, Luccarini JM, Poekes L, et al. The new-generation pan-peroxisome proliferator-activated receptor agonist IVA337 protects the liver from metabolic disorders and fibrosis. Hepatol Commun. 2017;1(6):524-37.
Yokote K, Yamashita S, Arai H, Araki E, Suganami H, Ishibashi S, of the K-Study Group OB. Long-term efficacy and safety of pemafibrate, a novel selective peroxisome proliferator-activated receptor-α modulator (SPPARMα), in dyslipidemic patients with renal impairment. Int J Mol Sci. 2019 Feb 6;20(3):706.
Younossi ZM, Loomba R, Rinella ME, et al. Current and future therapeutic regimens for nonalcoholic fatty liver disease and nonalcoholic steatohepatitis. 2018;68(1):361-71.