WHat is the NASH diagnosis criteria ?
For a positive diagnosis of NAFLD to be made, there should be
Hepatic steatosis by imaging or histology
No significant alcohol consumption
No competing aetiologies for hepatic steatosis, such as hepatitis C, steatogenic drugs, parenteral nutrition, Wilson's disease and severe malnutrition
No coexisting causes of chronic liver disease, such as hemochromatosis, autoimmune liver disease, chronic viral hepatitis, alpha-1 antitrypsin deficiency, Wilson's disease and drug-induced liver injury
Once, a diagnosis of NAFLD has been established, patients should be assessed for NASH or fibrosis. While a liver biopsy remains the gold standard to differentiate NAFL from NASH and rule out other chronic liver diseases, elastography and scoring systems based on clinical features and routine biochemical testing can be used to assess fibrosis in patients with NAFLD and thus avoid invasive interventions that can be costly, risky, and potentially painful.
Current guidelines thus recommend that patients suspected of having NASH and/or steatohepatitis should undergo liver biopsy, as non-invasive techniques are expensive have not yet been validated. Biomarkers, fibrosis scores and electrography are recommended as acceptable non-invasive procedures for the identification of cases at low risk of advanced fibrosis/cirrhosis. New metabolomic biomarkers and genetic testing are currently under investigation.
RELATED NASH DIAGNOSIS VIDEOS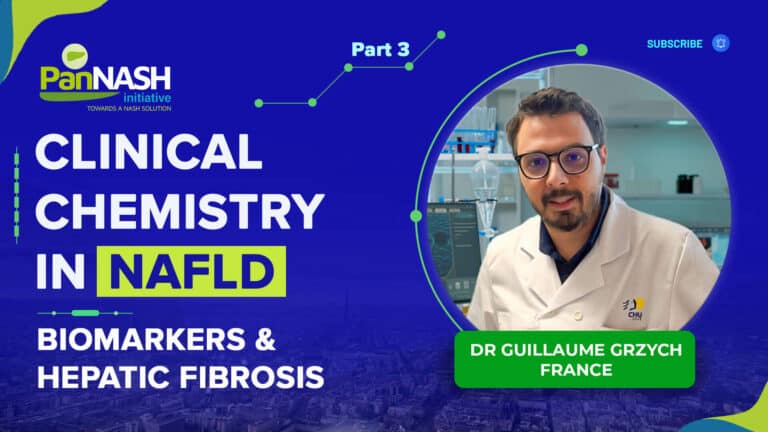 Discover the intricate dynamics of Clinical Chemistry in NAFLD with Dr. Guillaume Grzych, a leading
View More ⏩
RELATED NASH DIAGNOSIS ARTICLES
Tissue fibrosis is induced by an excessive collagen deposition in organs suffering from inflammation and
View More ⏩
In this study, a large, global, multidisciplinary panel discussed priorities within the field of fatty
View More ⏩
Research into personalised medicine for non-alcoholic fatty liver disease (NAFLD) underscores the importance of
View More ⏩
Recent research indicates that 30% of adults worldwide, 90% of those with obesity, and 70%
View More ⏩
Simplified algorithm for the diagnosis of NASH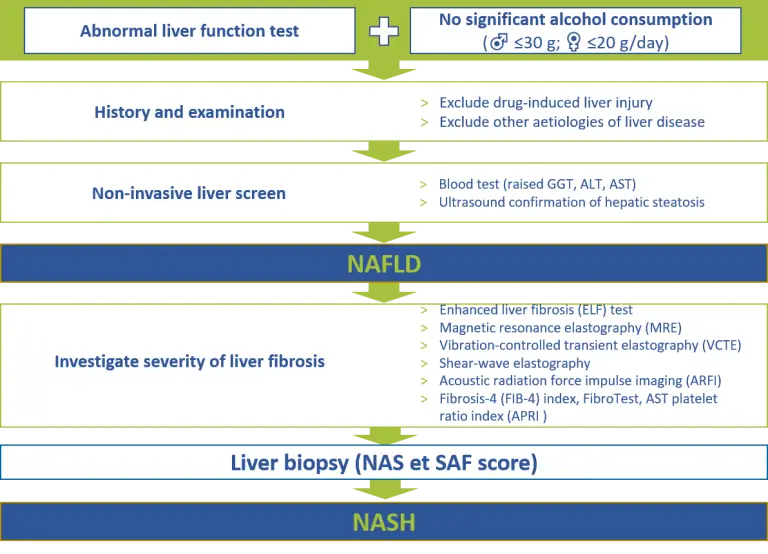 Bril F, Millan L, Kalavalapalli S, et al. Use of a metabolomic approach to non-invasively diagnose non-alcoholic fatty liver disease in patients with type 2 diabetes mellitus. Diabetes Obes Metab. 2018;20:1702-09
Byrne CD, Patel J, Scorletti E, Targher G. Tests for diagnosing and monitoring non-alcoholic fatty liver disease in adults. BMJ. 2018;362:k2734
Chalasani N, Younossi Z, Lavine JE, et al. The diagnosis and management of nonalcoholic fatty liver disease: Practice guidance from the American Association for the Study of Liver Diseases. 2018;67:328-57
Gao F, Huang JF, Zheng KI, et al. Development and validation of a novel non-invasive test for diagnosing fibrotic non-alcoholic steatohepatitis in patients with biopsy-proven non-alcoholic fatty liver disease. J Gastroenterol Hepatol. 2020 Oct;35(10):1804-1812. 
Imajo K, Kessoku T, Honda Y, et al. Magnetic resonance imaging more accurately classifies steatosis and fibrosis in patients with nonalcoholic fatty liver disease than transient elastography. Gastroenterology. 2016;150:626-37 e7
Toplak H, Stauber R, Sourij H. EASL-EASD-EASO Clinical Practice Guidelines for the management of non-alcoholic fatty liver disease: guidelines, clinical reality and health economic aspects. Diabetologia. 2016;59:1148-9
Younossi ZM, Noureddin M, Bernstein D, et al. Role of noninvasive tests in clinical gastroenterology practices to identify patients with nonalcoholic steatohepatitis at high risk of adverse outcomes: expert panel recommendations. Am J Gastroenterol. 2021 Feb 1;116(2):254-262.