Management of NASH Treatment nonalcoholic steatohepatitis
Explore the latest advancements in NASH treatment with our comprehensive video library, focusing on innovative NASH therapies and effective management strategies.
Learn about the current approaches to reducing NASH-related mortality, preventing progression to cirrhosis, and avoiding hepatocellular carcinoma (HCC). Although no FDA or EMA-approved therapies for NASH exist yet, our video collection highlights the importance of lifestyle interventions and offers insights into the evolving landscape of NASH management.
Stay informed and empower your practice with the most up-to-date information on NASH treatment options.
RELATED Nash treatment and therapies VIDEOS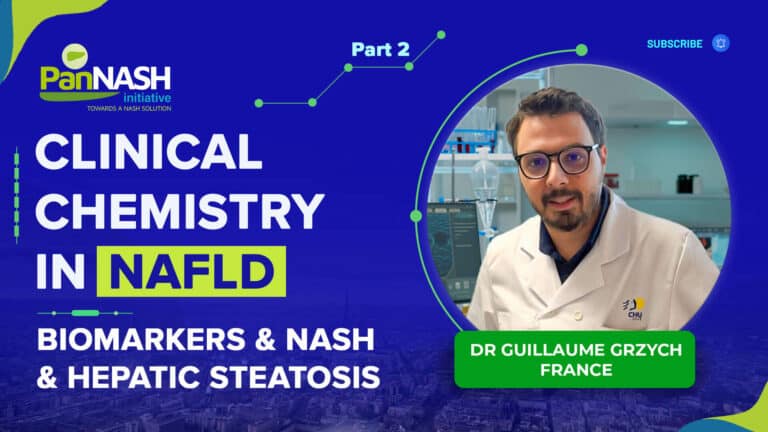 Discover how key biomarkers like Fatty Liver Index and SteatoTest are transforming NAFLD diagnosis and
View More ⏩
The close relationship between unhealthy lifestyle and NAFLD makes lifestyle correction mandatory in all patients, with the potential not only to improve liver disease, but also hyperglycaemia, atherogenic dyslipidaemia and high blood pressure. Relatively small amounts of weight loss reduce liver fat and improve hepatic insulin resistance.
Bariatric surgery is an efficient method to achieve significant weight loss, reverse insulin resistance, and reduce cardiovascular risk and long-term mortality. A meta-analysis on the effect of bariatric surgery in NAFLD revealed that the pooled proportion of patients with improvement or resolution was 91.6% for steatosis, 81.3% for steatohepatitis, 65.5% for fibrosis, and that 69.5% of patients experienced complete resolution of NASH. Nevertheless, the AASLD practice guidance states that while bariatric surgery can be considered in otherwise eligible patients with NAFLD or NASH, it is premature to consider it as an established option for the treatment of NASH.
500 – 1000kcal energy defect
7 – 10% total weight loss target
long-term maintenance approach
strictly keep alcohol below the risk threshold
(30g, men, 20g, women)
Exercise/ physical activity
Moderate-intensity aerobic physical activities
(150 – 200 min/week)
3-5 sessions
Resistance training
PHARMACOTHERAPY: LACK OF APPROVED THERAPIES
European and U.S. guidelines recommend that pharmacotherapy should be reserved for patients with biopsy-proven NASH, particularly those with significant fibrosis (stage F2 and higher), but also those with early-stage NASH who are at high risk of disease progression. As yet, no drugs have been approved for treatment of NASH and thus any recommendation for pharmacological therapy is off label. However, the EASL-EASD-EASO guideline states that pioglitazone or vitamin E or their combination may be used for NASH.
RELATED Nash management ARTICLES
Peroxisome proliferated-activated receptors (PPARs), including α, β/δ and γ isotypes, are a nuclear receptor family
View More ⏩
Tissue fibrosis is induced by an excessive collagen deposition in organs suffering from inflammation and
View More ⏩
Over the past few decades, non-alcoholic fatty liver disease (NAFLD) has become a growing problem,
View More ⏩
In this study, a large, global, multidisciplinary panel discussed priorities within the field of fatty
View More ⏩
Bower G, Toma T, Harling L, et al. Bariatric surgery and non-alcoholic fatty liver disease: a systematic review of liver biochemistry and histology. Obes Surg. 2015;25(12):2280-9.
Budd J, Cusi K. Role of agents for the treatment of diabetes in the management of nonalcoholic fatty liver disease. Curr Diab Rep. 2020 Oct 5;20(11):59.
Chalasani N, Younossi Z, Lavine JE, et al. The diagnosis and management of nonalcoholic fatty liver disease: Practice guidance from the American Association for the Study of Liver Diseases. 2018;67(1):328-57.
Dufour JF, Caussy C, Loomba R. Combination therapy for non-alcoholic steatohepatitis: rationale, opportunities and challenges. Gut. 2020 Oct;69(10):1877-1884
European Association for the Study of the Liver (EASL); European Association for the Study of Diabetes (EASD); European Association for the Study of Obesity (EASO). EASL-EASD-EASO Clinical Practice Guidelines for the management of non-alcoholic fatty liver disease. J Hepatol. 2016 Jun;64(6):1388-402.
Mummadi RR, Kasturi KS, Chennareddygari S, Sood GK. Effect of bariatric surgery on nonalcoholic fatty liver disease: systematic review and meta-analysis. Clinical gastroenterology and hepatology : the official clinical practice journal of the American Gastroenterological Association. 2008;6(12):1396-402
Muthiah MD, Sanyal AJ. Current management of non-alcoholic steatohepatitis. Liver Int. 2020; 40(Suppl 1):89-95
Younossi ZM, Corey KE, Lim JK. AGA clinical practice update on lifestyle modification using diet and exercise to achieve weight loss in the management of nonalcoholic fatty liver disease: expert review. Gastroenterology. 2021 Feb;160(3):912-918
Exploring Innovative NASH Therapies and Effective Management Strategies
As the prevalence of NASH continues to rise, it is essential for healthcare professionals to stay informed about the latest research, therapies, and management approaches. This page provides a comprehensive overview of the current state of NASH treatment, discussing the importance of lifestyle interventions and the ongoing development of new therapies. Dive deep into the evolving landscape of NASH management and discover the best practices to optimize patient outcomes in this increasingly common liver disease. Stay ahead of the curve and empower your practice with cutting-edge knowledge on NASH treatment strategies.