 Professor Dr. Michael Roden is Chair of Endocrinology and Metabolic Diseases, Heinrich-Heine University, Director of the Division of Endocrinology and Diabetology, University Clinics Düsseldorf and CEO of the German Diabetes Center (DDZ). He was trained at University of Vienna and Yale University. His translational studies..
Joined: April 27, 2021
Articles: 5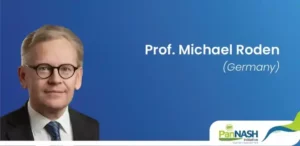 The prevalence of NAFLD is increasing worldwide in parallel with the rising epidemics of obesity and T2DM. NASH is now becoming one of the main causes of Cirrhosis and HCC and the main indication for liver transplantation. Except for lifestyle modification through diet and exercise, there are currently no approved treatments for NASH. While bariatric surgery can be considered in otherwise eligible patients with NAFLD or NASH, it is premature to consider it as an established option for the treatment of NASH. Numerous novel treatments for NASH are currently in development targeting metabolism, cell death, inflammation, fibrosis and the gut-liver axis. However, drugs focusing on just one target may not be sufficiently efficacious and might have to be used in combination. That being said, Pan-PPAR agonists that act on multiple targets may be a promising new therapeutic option for NASH.
Read More

SUBSCRIBE TO OUR MONTHLY NEWSLETTER TO GET THE LATEST UPDATES